The Beneficiaries
Disabilities come in many forms, but more often than not affect those in society who are the most vulnerable: children and the elderly. Disabled people in Cambodia are more numerous than in many other countries as a result of 30 years of war with the accompanying lack of normal medical care, and because so much destruction took place in the country, patients tend to be very poor and unable to afford what healthcare is otherwise available.

Such people tend to fall into several groups, including:
Landmine victims who lose limbs and eyes, and may have painful stumps
Children with congenital defects (club foot, cleft lip, cerebral palsy, meningocoeles, etc.)
People who are disabled from infectious diseases (such as polio or osteomyelitis)
Trauma victims such as children who fall out of trees or are knocked down by cars
Burn victims who either cannot afford treatment of their burns or end up with severe contractures of their limbs
Elderly people who go blind because of cataracts or cannot walk because of broken hips
Acid attack survivors in need of multiple surgeries and physiotherapy
While in developed countries the disabled are embraced ever-increasingly into society, the process may be far behind or non-existent in developing countries. Disabilities cause a tremendous amount of suffering and have the potential to destroy social integration, happiness, economic productivity, and quality of life.
The majority of physical disabilities can be improved or eliminated by relatively cheap procedures and techniques such as surgery and prosthetic devices. Unfortunately, surgical projects unjustly tend to inspire a negative reaction with donors who imagine large, expensive, non-sustainable, high tech units soaking up the limited health resources of a developing country, and performing complex operations for a limited elite. This is not the case at CSC where rehabilitative surgical procedures are cheap and sustainable and the material costs for surgery can be cost equivalent to the treatment of many infectious diseases (around US$35 per operation). The surgical techniques can be easily learned by local surgeons.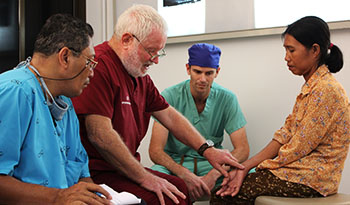 Founded by Dr. Jim Gollogly, CSC provides a range of medical services to disadvantaged Cambodians.
For example, a child born with a cleft lip or palate in a country like Cambodia has a dismal outlook and is unlikely to go to school, marry, or find a job, but will be stigmatized and probably malnourished. A repair of the defect, will take 45 to 90 minutes at CSC, cost less than $100, and utterly change the child's life. Similarly, with surgery, a polio victim who is only able to crawl along the ground, may have his or her hips released and be able to walk with crutches. A landmine victim may be able to be fitted with a comfortable functional artificial limb to enable him/her to work again. All operations are free to the patient at CSC, since the vast majority of the patients are too poor to be able to afford treatment at any other facility.